'Beauty in the suffering': His house submerged in water, he sits at the piano and plays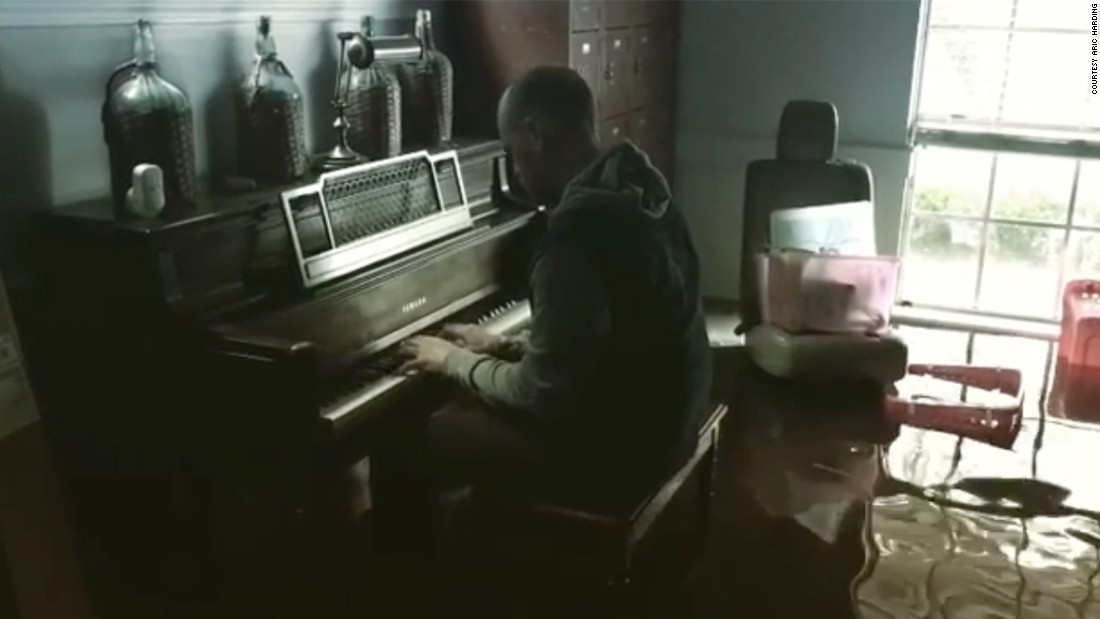 (CNN)Aric Harding returned to his flooded home in Friendswood, south of Houston, to pick up some stuffed animals and toys to comfort his seven children, who were taking shelter at a nearby house.
One of his sons is an avid piano player and was concerned the family's piano would be destroyed by flood water. When Harding found the water hadn't covered the piano, he sat down and began to play.
"I decided to take a moment and play and take it all in," he told CNN on Thursday.
I went back to our street today because as you guys have probably seen the water has come back with a vengeance. I hope this was its high point. I grabbed the kids' favorite stuffed animals that we had left behind and a couple of games to keep the kids occupied. I think it's all finally sinking in a little. What we used to have going as a city is gone. I really think God is going to do something completely new here. I am excited to see the new beauty in the suffering. Our pastor @bruce_wesley reminded us of that truth from Romans 8 this morning on his Facebook Live broadcast. "For I consider that the sufferings of this present time are not worth comparing with the glory that is to be revealed to us. For the creation waits with eager longing for the revealing of the sons of God. For the creation was subjected to futility, not willingly, but because of him who subjected it, in hope that the creation itself will be set free from its bondage to corruption and obtain the freedom of the glory of the children of God. For we know that the whole creation has been groaning together in the pains of childbirth until now. And not only the creation, but we ourselves, who have the firstfruits of the Spirit, groan inwardly as we wait eagerly for adoption as sons, the redemption of our bodies. For in this hope we were saved. Now hope that is seen is not hope. For who hopes for what he sees? But if we hope for what we do not see, we wait for it with patience. Likewise the Spirit helps us in our weakness. For we do not know what to pray for as we ought, but the Spirit himself intercedes for us with groanings too deep for words. And he who searches hearts knows what is the mind of the Spirit, because the Spirit intercedes for the saints according to the will of God. And we know that for those who love God all things work together for good, for those who are called according to his purpose." ‭‭Romans‬ ‭8:18-28‬ ‭ESV‬‬
Harding posted the video of the moment on Instagram with the caption, "I think it's all finally sinking in a little. What we used to have going as a city is gone. I really think God is going to do something completely new here. I am excited to see the new beauty in the suffering."
Harding, whose children range in age from 5 to 13, says he's been heartened by the response.
On Thursday, as Harding and his neighbors were beginning the cleanup operation, Grammy-nominated singer-songwriter Vanessa Carlton saw Harding's video online and wanted to help.
Carlton tweeted CNN, "This story is so important. Is there a way I can get his contact info? I'd like to get him a replacement piano if this one doesn't make it."
CNN connected Carlton and Harding and the pair spoke on Friday morning. "She was so nice," Harding told CNN. "She said once things settle down she wants to make it happen."
And it looks like the Harding family will get a new piano thanks to the help from the singer. Speaking to CNN's Anderson Cooper on Friday, Carlton revealed that Yamaha, the musical instrument company that sponsors her, has agreed to replace the piano.
"Actually, I haven't told [Harding] yet," Carlton says. "He represents a lot of people down there who are musicians and as you know a lot of these people don't have flood insurance, and when they replace their items, they replace their essentials first. Being a musician, music is like oxygen. It is an essential."
Carlton added she cried when she watched the video of Harding playing in his flooded living room.
"I'm sort of here, representing all of the musicians down there that are going to need their instruments replaced," she said.
Carlton is calling on manufacturers and others to donate musical instruments to Hurricane Harvey victims. "Sometimes music is the only thing that gets you through," she tweeted.
More from this publisher HERE