Roger Stone's moment of truth?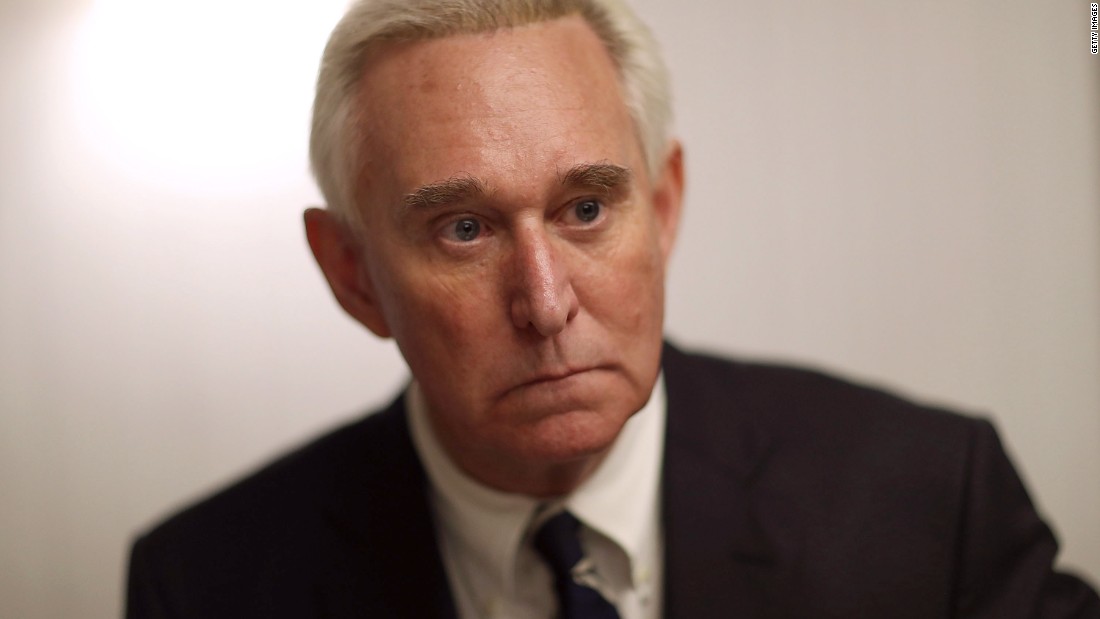 (CNN)The Nixon tattoo on his back looks more expensive than the transplanted hair on his head. His fashion sense, about which he is outspoken and fastidious, seems ripped from Gilded Age cartoons about predatory industrial fat cats.
Stone claims in the book that he knew from his "own research that Podesta had been involved in money laundering for the Clinton Foundation and the Russian Mob" and the tweet was about an article addressing these unproven allegations, which Stone would later post, also in October 2016, on his personal blog, StoneColdTruth.com. "It's important to note that none of the information regarding Podesta's activities in this article comes from WikiLeaks in their subsequent releases," he writes in his book. "The two are not connected."
Thus, according to the unsubstantiated story peddled by this longtime GOP operative, was a longtime Democratic operative like Podesta able to enlist the Office of the Director of National Intelligence, private cyber security firms, multiple bipartisan congressional committees and a legion of investigative journalists into an elaborate false-flag conspiracy. One can't tell if Stone here is indignant or jealous.
By his own admission — or at least one variation of it — he has "communicated" with Julian Assange, the WikiLeaks founder, who has spent the last five years in paranoia and purdah behind the walls of the Ecuadorian embassy in London. (WikiLeaks says neither it nor Assange has ever communicated with Stone.)
Stone has also copped to having had online conversations with Guccifer 2.0, the hacking entity responsible for the breach of Podesta's emails and the Democratic National Committee's and the Democratic Congressional Campaign Committee's, all of which were then passed on to WikiLeaks.
Trump, too, has continually doubted or questioned Russia's hacking of the DNC, DCCC and Podesta's emails, both before and after the election, despite his now having access to all those agencies' classified findings on the matter. Assange denies receiving his digital wares from Russian intelligence at all.
Which will make even an untelevised congressional hearing something of an unbound ego trip for him and the reason he wants his testimony publicized.
Yet the Stone spectacle shouldn't distract from the fact that he has been especially squirrely about his engagement with Assange. There are also circumstantial oddities to the story about the arms-length relationship enjoyed between supporters or fellow travelers of Trumpland and WikiLeaks, about which Stone will no doubt be asked directly.
Stone was off by two days: the release of Podesta's hacked emails began on October 7, 2016.
That same Observer article also intriguingly cited an unnamed source "close to Trump Tower" who said that Stone once "boasted to him of meeting with Assange himself," presumably within the span of the 2016 campaign cycle, which would have meant such a meeting can only have taken place at the Ecuadorian embassy in London. Stone replied that the Observer's source was "bull****ing" the broadsheet.
I emailed Stone for this article, asking if he'd name his back channel to Assange.
"I had an off the record conversation," he wrote, "and I do not burn reporters with whom I have that ground rule so I will not expose this journalist. Nothing illegal or improper in his dialog with Assange."
Now here is why some question whether Stone is telling the truth.
On August 8, 2016 — the same day he spoke before the Broward Republicans, saying that he had communicated with Assange — Stone tweeted this: "When I had dinner with Nigel Farage who lead [sic] the Brexit campaign in the UK he told me the polls had been rigged in that fight. MSM trick." ("MSM" refers to "mainstream media.") Assuming the misspelled "led" here suggests that the dinner took place after the Brexit referendum, that would place it sometime after June 23 but before August 8, 2016.
"Farage told me he was seeking a meeting with the candidate and I told him I would recommend it," Stone wrote me, "which I subsequently did in conversations with Donald and Paul Manafort."
The former UKIP leader's "capacity for drink and cigarettes are memorable," Stone added. "Seemed like a very nice guy. I am confident Farage asked many in the Trump camp to help secure this meeting. I am certain others recommended it as well."
As to the subject of their exchange or exchanges during the convention and possibly also during the inauguration, "[n]either Julian Assange nor WikiLeaks came up in any context in that conversation or any subsequent conversation as, again, I don't recall seeing or meeting him again," Stone wrote me.
Whatever was discussed at that conclave, Assange had urgent business to attend to. Later that day, the fugitive Australian gave a live press conference about WikiLeaks' latest haul of leaked documents, the drip-drip publication of which had begun on March 7. It was a data dump pertaining to the CIA's Center for Cyber Intelligence, which WikiLeaks code-named "Vault 7."
March, after all, had seen Trump's tweeting of his accusation that he had been personally "wiretapped" by President Obama and the recusal of Attorney General Jeff Sessions from the Trump-Russia investigation, a recusal Trump would later abhor publicly.
"Vault 7" demonstrated how American spies use cyber warfare to snoop, via smart phones and televisions, on their friends and foes alike. If yours is the kind of mind that judges InfoWars and StoneColdTruth.com as standard-bearers of credibility, as against a compromised and biased "MSM," what might you infer from these disclosures?
US investigators might find it rather easy to determine who Stone's "back channel" to Assange is — assuming such a person exists.
Anyone who pays call on the fugitive WikiLeaks founder is captured on CCTV, footage of which would be in the possession of MI5, Britain's domestic security service, including, presumably, any American libertarian scribbler more closely hewing to Stone's description of his interlocutor.
The Ecuadorian embassy in Knightsbridge lies around the corner from the department store Harrods and, thanks to its infamous resident, it's one of the most surveilled buildings in London. It hardly needs stressing that if US counterintelligence officials in the FBI and CIA asked, MI5 would gladly share such CCTV footage with them.
Which may mean that the House Intelligence Committee already knows more than the dirty trickster thinks it does. Not that he's bothered by that.
"I could care less if the [intelligence] leakers figure out who my source is," Stone wrote me, "because neither he nor I know the source of the WikiLeaks disclosures."
More from this publisher HERE